Monitor Program Prices
Our prices are based on the plan, or number of monitors you choose.
There is a one-time account activation fee of $150, and then your month-to-month lease will be based on the following.
---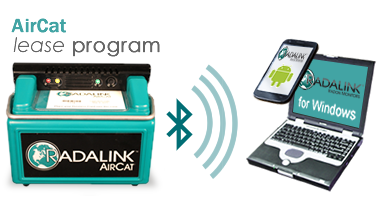 AirCat $90/mo. Full-Service Lease Plan:
NEW!
Perfect for seasonal times when business may slow, pay only a $90 monthly base rate plus $30 per lab-processed, end-client test report.
see complete billing and service details here
AirCat Flat Rate Lease Plan with Unlimited Report Processing:
1 to 4 monitors: $165 per month each
5 to 9 monitors: $155 per month each
10 to 14 monitors: $145 per month each
15 or more monitors: call for special pricing

---
All plans boast the technology and convenience of our newest state-of-the-art radon monitors. Via Bluetooth, our monitors allow you to upload test data directly to our lab via your iOS, Android™ or Windows® device.
AirCat Specs | Service Details

Want pricing on accessories also?
Download our complete price ledger here.